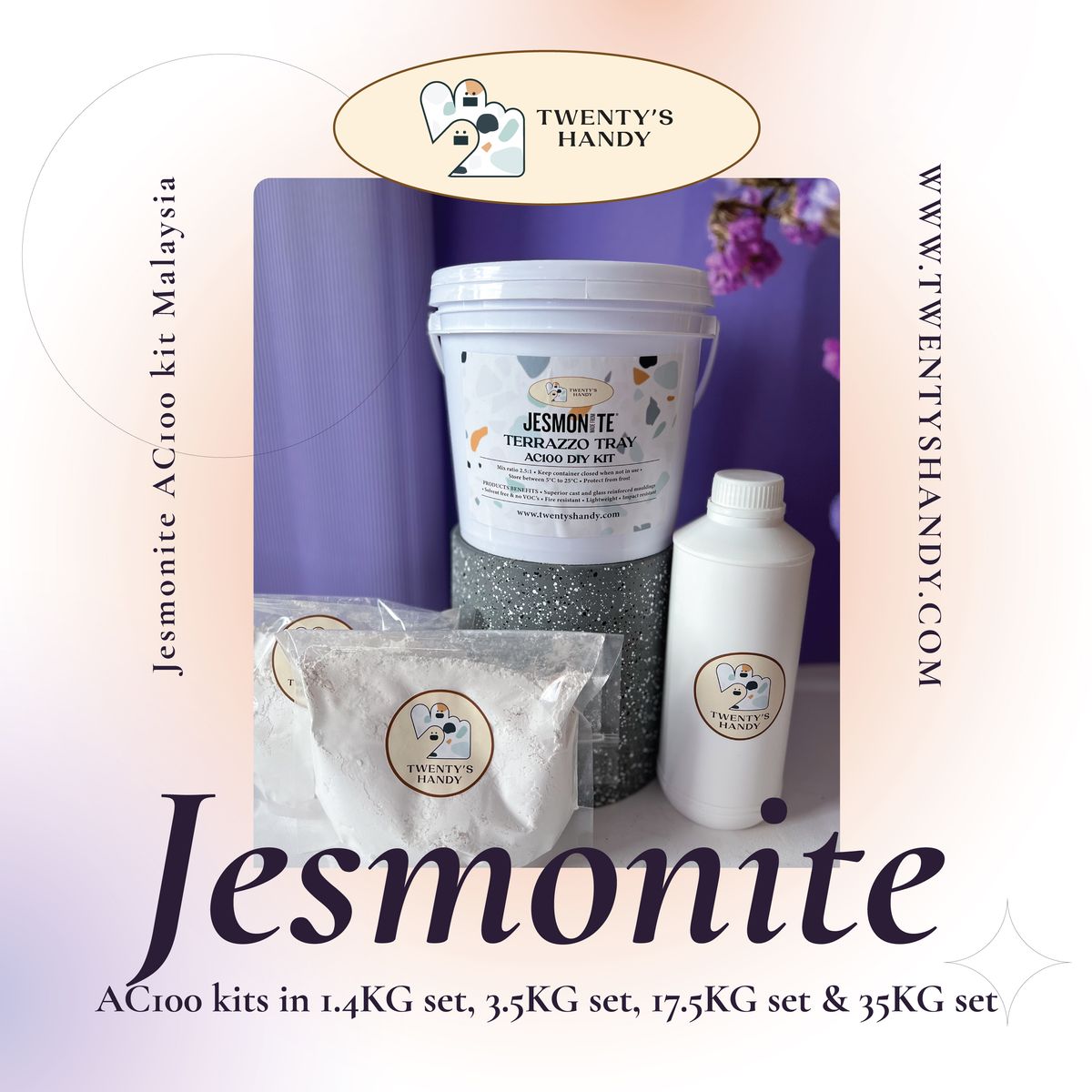 What is Jesmonite?
Established in 1984, Jesmonite continues to provide innovative approaches and responsible solutions to a fast growing industry.
Jesmonite has become the go-to material for designers and artists looking for an environmentally conscious alternative to traditional building materials or resin based products.
The original compound was an acrylic-modified gypsum composite, that offered an eco-friendly and safe alternative to fibreglass, and provided a lightweight substitute to cast concrete. It has since been developed into a range of bespoke products and our specialist engineers and lab technicians are constantly looking to innovate in terms of durability, resilience, and sustainability, improving methods and combining experience with new technology.
AC100
Jesmonite AC100 is a water-based composite material used to make decorative moulded objects. It is safe to use and contains no solvents or VOCs. It can be cast and laminated using our unique Quadaxial Glass.
Products benefits
Superior cast and glass reinforced mouldings
Solvent free & no VOC's
Fire resistant
Lightweight
Impact resistant
Information
Easy to use, adaptable material for all moulding applications.
Suitable for decorative cast objects, mould cases, wall panels.
Supplied with a range of ancillary products including glass reinforcements, pigments, fillers, and control chemicals to adapt the material to the widest range of applications.
The ultimate chameleon material, can replicate virtually any surface, colour, or texture.
Learn more from the Jesmonite Official Webiste here: (https://jesmonite.com/about-us/)
FAQs
Q: Is Jesmonite AC100 recommended to make light weight jewellery?
A: Jesmonite AC100 would be best suited for lightweight jewellery.
Q: What is the setting time of AC100?
A: The setting time can be anything between 50 minutes and 2 hours, depending on temperature in the room.
Q: Is is possible to use Marble powder instead of part 2 of the Jesmonite AC100?
A: No. The products are sold as a composite and designed specifically to work together. Jesmonite do not test the liquids with other powders.
Q: Can you sand Jesmonite AC100?
A: Jesmonite AC100 cured surfaces can be sanded using a variety of sandpaper grades to achieve a range of different surface appearances and textures. Most users will start with a coarse sandpaper and then move onto a fine sandpaper grade for finer finishing. The sanding process can be done by hand or with a power sander.
Q: How do I work out how much Jesmonite AC100 material I need?
A: For casting Jesmonite AC100, every 1,000ml of mould volume will require 1,750g of complete mixed Jesmonite AC100 (1,750g Jesmonite AC100 = 1000ml).